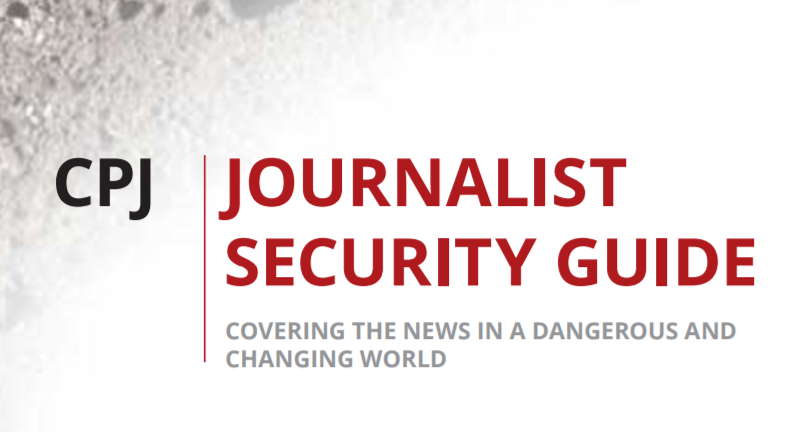 By Frank Smyth
CPJ Senior Adviser for Journalist Security
With a chapter on Technology Security by CPJ Staff Technologist Tom Lowenthal and Danny O'Brien
Introduction: A New World of News
The world is an increasingly dangerous place for journalists. On average, more than 30 journalists are murdered every year, and the murderers go unpunished in nearly nine of 10 cases. Hundreds of journalists each year are attacked, threatened, or harassed. Many are followed or have their phone calls and Internet communications intercepted. More than 150 are behind bars at any given time, some without being charged with a crime. The whereabouts of at least 35 journalists are unknown. Throughout the profession, journalists face emotional stress whenever they cover stories involving pain or loss of life, from the sexual abuse of children to terrorist attacks against civilians.
The world is a smaller place for journalists, too. Digital technology enables nearly everyone to follow not only events in real time, but also reporting by specific journalists and media outlets. Violent and corrupt actors worldwide understand not only how information shapes perceptions, but how the work of individual journalists can threaten their activities. In some countries, an unprecedented level of partisanship on cable, broadcast, and Internet news outlets has blurred the lines between reporters and advocates, putting even more stress on the notion that journalists are neutral or professional observers. The result is a more hostile environment for the press in places from sleepy small towns to international war zones. Journalists everywhere need to watch their own and each other's backs now more than ever before.
The business of news is also different. Newsroom cutbacks have resulted in more freelancers reporting on the frontlines of stories, from overseas tsunamis to local highway accidents, ocean oil spills to political demonstrations, armed conflicts to organized crime. Although many of these stringers carry press credentials from major media organizations, they are still contract employees who may be responsible for their own preparation, equipment, insurance, and care. Citizen journalists of all kinds are likely to face the same challenges. Unpaid contributors are reporting stories for evolving new-media networks with little or no support or training. Today, more journalists than ever are deciding what stories to cover and how to approach them. In other words, they are working largely on their own.
This guide details what journalists need to know in a new and changing world. It is aimed at local and international journalists of varied levels of experience. The guide outlines basic preparedness for new journalists taking on their first assignments around the world, offers refresher information for mid-career journalists returning to the field, and provides advice on complex issues such as digital security and threat assessment for journalists of all experience levels.
The Guide contains also:
1  – Basic Preparedness
Foreign Correspondence
Domestic Journalism
Press Credentials
Insurance Coverage
Medical Care and Vaccinations
Personal Precautions
2 – Assessing and Responding to Risk
Security Assessment
Sources and Information
Security and Arms
Sexual Violence
Captive Situations
Responding to Threats
3 – Technology Security
Planning for Safety
Understanding the Threat
Protecting Communications
Defending Your Data
Remote Data
Choosing a Strong Password
4 – Armed Conflict
Security Training
Protective Gear
Embedded or Unilateral
Rules of War
Checkpoints
Satellite Technology in Hostile Environments
5 – Organized Crime and Corruption
Basic Preparedness
Planning an Investigation
Approaching Hostile Subjects
Accessing Information
Collaborative Efforts
Warning Signs
6 – Civil Matters and Disturbances
Accident, Fire, and Rescue Scenes
Crime and Terrorist Scenes
Stories Involving Private Property
Protests and Riots
7 – Natural Disasters
Freelance Risks
Newsroom Planning
Transportation and Equipment
Field Safety
8 – Health Epidemics and Mass Hazards
Basic Preparedness
Protecting Yourself
9 – Sustained Risks
Personal Security
Family Security
Surveillance
Solidarity
Contingency Planning
10 – Stress Reactions
Signs of Stress
Taking Care of Yourself
Conclusion
Appendices
A. Checklists
B. Security Training
C. Insurance Providers
D. Journalism Resources and Manuals
E. Journalism Organizations
F. Other Resources
G. Security Assessment Form
  To download full PDF click here